Find the perfect storage for your teas right here. Many tea containers to choose from and tuns of tips and advice on how to choose good containers. You will find the ideal storage canister, exquisites loose leaf tea storage containers and tins that will make your tea routine a dream ! Learn how to properly store your loose leaf tea to keep all the aromas. Ok, and it might just look perfect on your counter.
Follow me, in 3 steps you will discover how to choose the right tea storage container.
Tea Storage on Amazon
* Assume that any/all of the links and images on this website are affiliate links of which I will receive a small commission from sales of certain items, but the price is the same for the you. It allows me to continue to develop the site and find out more great information !
What should you look for when buying a tea storage container ?
There are many things to look for when buying loose leaf tea storage containers and tins, particularly when storing loose leaves and herbs. Outside being a cute tin or a stunning ceramic container on your countertop, it's primarily use is to keep all the flavors from the herbs and not to let the light or humidity in. The containers have to be food safe and airtight. Basically, you want to keep your precious herbs and teas away from moisture, odor, air and light. Keep your containers full to limit contact with air.
Questions to ask before buying :  
Is it airtight ?
Is it graded food safe ?
Will it keep my herbs away from odor, moisture and light ?
Which material is is made of ?
Is the container easy to open ?
Is it dishwasher safe ?
What are the dimensions of the containers ?
Do I want to use this tin for travelling ?
What style and color do I want ?
Do I want a set for the pantry or countertop ?
Is it only utilitarian or also for decorating ?
When buying tea storage containers online, always look for the reviews, it often will help you make a good decision. I have made a selection for you based on quality, style and the reviews that I found.
For example, this tea organizer has overall great reviews on many different sites. It includes 10 pieces, spoon, steel tea infuser, 6 canisters, lid, tray and drawer for tea accessories. This is simple and it looks perfect especially for the office.
How to properly store your loose leaf tea
The size of the jar
Why is the size of the jar important ? Because you want to keep the container as full as possible to limit contact with air in the container. If you are looking to buy a jar for a loose leaf tea that you use everyday and buy in larger amounts, you can get a medium size storage container. But generally, you want to look for a small container. Especially if it is a specialized herbal tea that perhaps you use less or buy in a smaller quantities, try to find a small container so that it stays full most of the time. The more air in the container, the more chances your precious herbs will oxidize and lose their aromas and benefits.
How long do I keep my loose herbal teas 
You want to store your loose herbal teas for no more than a year. Roots can be stored for longer, but delicate herbs are more sensitive to their environment. So drink up ! Yes, after some time, the loose herbal teas will lose aromas and flavors, this is why it is so important to have the right storage container for teas. A container that is airtight and opaque is essential.

Steel Loose Leaf Tea and Spice Tin Round Canisters with Latch Cover – Set of 4
Where do I put my storage containers for loose tea at home
As cute and lovely your little containers might be, keep them away from heat sources and humidity. So, not to close to the stove, oven or the sink and dishwasher. You want a dry place where temperature is cool and stable or in your kitchen cabinet. Once again, the purpose of the tea tins or containers is to keep the odors and air from coming in or out !
Keep away from direct sunlight !!
What are the different types of loose leaf tea storage containers ?
Materials
When buying a quality loose leaf tea storage container it is most important to look for a food graded container and a material that is non-reactive and that do not transfer flavors into your herbs.
Glass is safe, but because it is clear, although it is beautiful, it is not recommended. Food graded glazed ceramic is perfect, porcelain, tin-plated steel as well as stainless steel and tin. Those are the most common that would be used for the kitchen.
Which material to avoid ? You don't want a container made of a material that is clear, so glass or clear plastic is not suggested nor wood, rubber or aluminium because they can give unwanted flavor to your loose leaf herbal teas. If you are thinking of using plastic, be aware that some plastics are not food graded and can contain BPA.
For an economical way to store your loose leaf teas, you still can store your loose herbal tea in food graded plastic bags like Ziploc and then in a brown paper bag to avoid contact with light. Do not use only paper bag as air will go through. You can get bags like these with foil inside or often you will buy your teas in such bags.
Lids

You want to look for food graded airtight lids that is easy to open. You will find lids in different materials such as wood, bamboo, cork, acrylic lid, tin.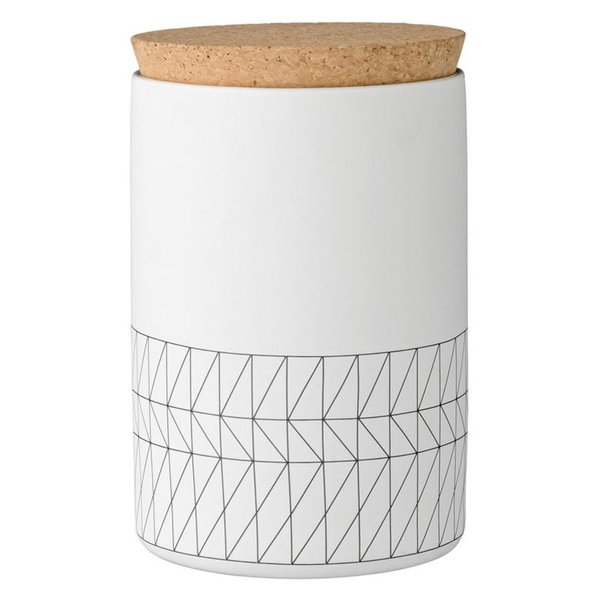 Black and White Carina Jar With Cork Lid
Nicola Spring Patterned Porcelain Tea / Coffee / Sugar Canister – Blue / Orange Print Design
Vacuum Sealed Containers
You can also find vaccum sealed containers, just like the vacuum sealed corks for wine bottles. These vaccum sealed containers can be more expensive but are great to keep the freshness of the loose leaf teas. They are perhaps less stylish than ceramic or tin containers, but they are perfectly useful and they store great in the pantry or for work. Afterall, you want to keep your herbs fresh and aromatic, the outside beauty comes in second place ! Content is more important than the containers… !!!
This one in stainless steel has a great look and good reviews.
Vaccum Sealed Stainless Steel Tea Storage Container with Magnetic Scoop Click Here 
Tightpac America Coffeevac 1 Pound Vacuum Sealed Storage Container, Solid Black Body/Cap
Styles
Now, let's talk about style ! There are so many cute and extravagant and unique jars for tea that it is hard to choose. If you want to leave your teas on a shelf or countertop, tea tins and storage containers are great to give personality to a kitchen.
Depending on your tastes, you will find scandinavian inspired containers, minimal, vintage, colorful, contemporary, rustic farmhouse inspired, asian inspired…. You can have a shiny or matte finish, with funny or elegant printed images.
So, YOU find your own style !
Size
The size is important because you do not want to have too much air in your containers. If it is for your everyday tea, you can buy a bigger tin. But generally, smaller is better. I would recommend smaller containers  and to keep the extra teas sealed airtight away in the pantry. It is important to keep your containers as full as possible.
Travel Tea Storage or Office Tea Storage
Teas are much more expensive in coffee shops and often less tasty than your specialized loose leaf herbal teas. But it is easy to find a cup of hot water while at work or travelling. So keep  a mini container for your tea with you when travelling or at work. A quality mini storage tin is are great gift for all tea lovers. There are so many cute ones on this site.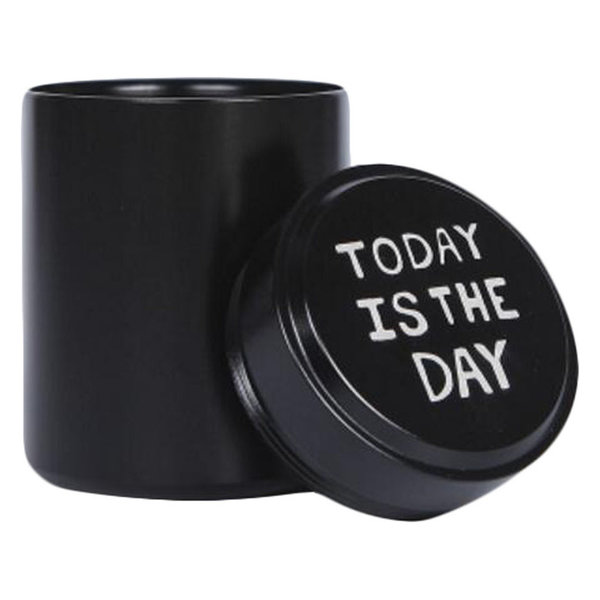 Home Travel Mini Storage Coffee Tin Metal Cans Tea Canister, A10
Size: Approximately diameter 4.5 CM/1.77 inch, 6.5 CM/2.56 inch height Material: Metal It is useful and be favor of many tea lovers.
Here is a video on the basics of storing tea :
Conclusion
So, did you answer all the questions from the first paragraph ? Did the article help you make a choice on what you need ? I hope you find just the right loose leaf storage container for yourself or for a gift.
Comments, ideas or suggestions ? please leave a comment below !
Silver Metal Tea Tin Canister with Metal Interior Seal Lids
Loose Leaf Tea 8 oz – holds 4 – 6 oz loose leaf tea each (4 pack) + Labels
More than 28 Original Gifts For Tea Lovers Click Here
Perfect Tea Accessories Click Here
Top 5 Loose Leaf Tea Blends Click Here